40 common causes of dark urine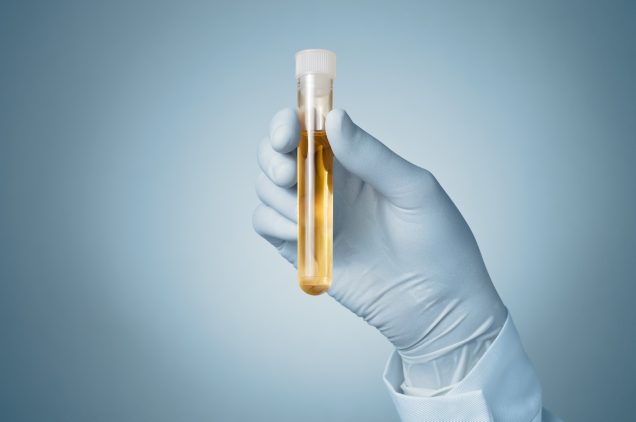 What does dark urine mean?
Normal urine is clear in appearance and has a straw-yellow color which comes from a pigment called urochrome. When you take more water, the urine gets diluted and takes a lighter color. On the other hand, when you take less water urine has less fluid content leading to a darker color. However, urine color can vary depending on your choice of foods, health conditions, or medications.
Certain types of foods and medications have the ability to change the color of urine.
Carotene containing foods, food colorings, berries, aloe, fava beans, rhubarb, beets, laxatives, vitamin B complex, drugs ( example: Pyridium, anti malarial drugs, iron supplements, levodopa, methocarbamol) etc. can change the urine color leading to darker urine.
Some disease and health conditions also changes the urine color into a darker one. These include- bleeding into the urine, liver disorders, kidney disorders, hemolytic anemia , porphyrias, urinary stone, melanoma, urinary tract infection etc.
If you see any change in urine color, don't panic and check whether it is due to your food habit or medication. If the color change is not related to foods or medication, then you should consult with a doctor immediately.
Common causes of dark urine
Here is a list of causes of dark urine in order from the most common to the least ones:
Jaundice
Jaundice is term which is used to describe yellowish discoloration of skin and sclerae . jaundice occurs due to an excess of bilirubin in the blood. Bilirubin is a yellow pigment. In jaundice, the body fluids may also turn into yellow color.
Dehydration
Dehydration occurs when your body loses more amount of fluid than you take in, as a result the organ , cells and tissues of your body can not carry out their normal function because there is insufficient amount of water. People of any age group can get dehydrated, but younger children and older people are more vulnerable to dehydration because they suffer from more complications.

The commonest cause of fluid loss from the body is excessive sweating , commonest cause of dehydration in younger children is severe diarrhea and vomiting. Every day an average non-active person should take 8 to 10 glasses of water in order to avoid dehydration.

Physically active person such as athletes, construction workers, people exposed to more temperature etc should drink more water than an average non-active person. Dehydration can be mild or severe. Severe dehydration causes serious complications. Mild dehydration can be corrected at home but severe dehydration needs to be treated immediately under special care settings.

Hepatitis
Hepatitis is an inflammatory condition of the liver. There are several causes of hepatitis, but the most common cause of hepatitis is viral infection.

The viral infection of liver that is called hepatitis is classified into five types. They are hepatitis A,B,C,D & E.

Hepatitis A is mild type of hepatitis. It is commonly transmitted by hepatitis A virus contaminated food or drink.
Hepatitis B is transmitted through infectious body fluids such blood , semen , saliva etc. wound caused by injection syringe, razor etc which is contaminated with hepatitis B virus can also transmit this disese. Currently 350 million people all over the world is suffering from this chronic disese.
Hepatitis C is a severe form of hepatitis. It is transmitted by using contaminated syringe or having unprotected sex.
Hepatitis D is also a severe viral infection. It is a rare disease and it can't occur without the help of hepatitis B virus.
Hepatitis E is transmitted through contaminated water. It is found in those areas which have poor sanitation. Hepatitis E is a common disease all over the world.

Cirrhosis
Liver cirrhosis is characterized by loss of normal hepatic architecture due to diffuse hepatic fibrosis with nodular regeneration. Morphologically cirrhosis is of two types. They are micronodular cirrhosis and macronodular cirrhosis.

Chronic hepatitis C infection and alcohol abuse are the commonest cause of liver cirrhosis. Obesity is also a risk factor for developing liver cirrhosis.

The common symptoms of cirrhosis include

decreased appetite
Epistaxis
weight loss
anorexia
weakness
jaundice
etc.

In more severe state the following symptoms can be seen. They are confusion, abdominal swelling, swelling in the legs, gynecomastia, breast atrophy in female, impotence etc.

Porphyria
Porphyrias are a group of rare hereditary disorders of blood. People having porphyrias lack some specific enzyme and can not make heme which is a component of hemoglobin. As a result porphyrin accumulate in the blood.

Porphyria is a genetic disease. It ia caused by an abnormal gene which is inherited from one of the parents. There are some risk factors for porphyrias. They are drug, sunlight, infection, alcohol abuse etc.

Porphyrias are of two types. They are hepatic and erythropoietic.
Symptoms of porphyrias include

abdominal pain
light sensitivity
neuropathy
hypertension
etc.

Hemolytic anemia
Hemolytic anemia can be described as a condition in which red blood cells are removed from circulation blood before completing their normal life span. Hemolytic anemia is of two types. They are Extrinsic and Intrinsic hemolytic anemia.

In extrinsic hemolytic anemia, the red blood cells are trapped and destroyed in the spleen. Some infections and tumors also can destroy these RBCs.
In intrinsic hemolytic anemia, defective red blood cells are produced in the body.

Sign and symptoms of hemolytic anemia include-

pale skin
fatigue
fever
confusion
dizziness
lethargy
lightheadedness
etc.

The common methods for treating hemolytic anemia are- blood transfusion, intravenous immunoglobulin, corticosteroid therapy and surgery.

Gallstones
Gallstones are not exactly stones, they are some solid materials which deposit in the gallbladder. Many people have gallstones and they might never know it until it blocks their bile duct and cause severe pain.

Gallstones consist of cholesterol, salt or bilirubin. Gallstones may vary in their size. Their size can range from size of a grain to the size of an apricot. 80% gallstones are made of cholesterol and 20% gallstones are made of calcium salts & bilirubin.

Risk factors for gallstones include

being overweight or obese
eating high fat or cholesterol diet
low fiber diet
diabetes mellitus
cirrhosis of liver
being female
age 60 or above
family history of gall stones
etc.

Glomerulonephritis
Glomerulonephritis is the inflammation of glomeruli of your kidneys. Glomerulonephritis can be life threatening and it may damage your kidney glomeruli which will eventually lead to kidney failure.
Acute glomerulonephritis can be caused by

strep throat
tooth abscess
systemic lupus erythematosus
goodpasture syndrome
polyarteritis nodosa
etc.

Chronic glomerulonephritis does not have a clear cause.

Symptoms of acute glomerulonephritis are

puffy face
less micturition
hematuria
high blood pressure
etc.

Symptoms of chronic glomerulonephritis are- blood in urine, hypertension, nocturia, swelling in ankle and face, abdominal pain, frequent epistaxis etc.

Rhabdomyolysis
Rhabdomyolysis can be defined as a condition in which damaged skeletal muscle breakdown occurs. As a result of muscle breakdown, myoglobin is released in the bloodstream. Too much myoglobin can damage your kidneys.

Sign and symptoms of rhabdomyolysis are

muscle weakness
low urine output
bruise
fatigue
dark urine
fever
malaise
nausea
vomiting
etc

Urethral Stricture
Normally the urethra is wide enough for free passage of urine. But, if the urethra narrows , it obstruct the urinary outflow. This medical condition is known as urethral stricture. This condition mainly affects men.

Cause of urethral stricture- tissue inflammation, presence of scar tissue, having penile implant, a straddle injury, pelvic fracture, catheter insertion, radiation injury etc.
Sign and symptoms of urethral stricture

less urine volume
reduced urine outflow
frequent micturition
burning sensation during urination
urinary incontinence
urethral discharge
penile swelling
inability to micurate (requires immediate treatment)

Biliary Obstruction (Bile duct obstruction)
It is a medical condition which is characterized by blockage of blie ducts. If the blockage remains untreated for a long time , it may lead to life threatening liver disese.

The causes of biliary obstruction are

gallstones
inflammation in the bile ducts
trauma
biliary stricture
enlarged lymph nodes
pancreatitis
hepatitis
cirrhosis
etc

Symptoms of biliary obstruction

dark urine
light colored feces
jaundice
itching sensation
pain in the upper right quadrant of abdomen
fever
nausea
vomiting
weight loss

ABO incompatability Reaction
This is a medical condition which occur if you get wrong type of blood during blood transfusion. It is a very rare condition, but if it occurs, it may be fatal. This type of reaction occurs due to the response of your immune system.

Cause of ABO incompatability – transfusion of wrong type of blood.

Sign and symptoms

fever and chill
breathing difficulty
muscle aching
nausea
chest pain
pain in the back and abdomen
jaundice
hematuria
etc

Heat emergencies
It is an emergency condition that occurs due to exposure of a person to hot weather and sun. heat emergencies have three stages. They are – heat cramps, heat exhaustion and heatstroke.

Sign and symptoms of heat emergencies

muscle pain
tightness
muscle cramps
dizziness
confusion
fast breathing
tachycardia
headache
extreme thrust
nausea
heavy sweating
fainting
hallucinations
rapid but weak pulse
dry skin
seizures
etc.

Autoimmune Hemolytic Anemia
Autoimmune hemolytic anemia (AHA) is a group of disorders in which antibody from your body mistakenly attach to your own red blood cells and destroy the RBCs by the action of own immune system. As a result the RBCs can't complete their normal life span.

Causes of autoimmune hemolytic anemia – half of AHA are idiopathic. Some illness can cause AHA.

They are

leukemia
systemic lupus erythematosus
infectious mononucleosis

Sign and symptoms

excessive fatigue and weakness
pale skin
tachycardia
jaundice
dark urine
abdominal fullness
headache
muscle pain
diarrhea
vomiting
etc

Chlamydia Infection
It is a sexually transmitted infection that is caused by bacteria. In early stages Chlamydia infection does not exert symptoms. It causes health in the later stages.

Causes of Chlamydia infections – unprotected sex, newborn baby can get this infection from infected mother during the borth process.

Symptoms

burning sensation during micturition
yellow or green discharge from penis or vagina
lower abdominal pain
testicular pain
dyspareunia
etc

Alcoholic liver disease
If a person consumes excessive amount of alcohol for an extended period of time, an inflammatory condition occurs which is known as alcoholic liver disease. Continuous alcohol consumption may lead to cirrhosis , or even liver failure.

Symptoms of alcoholic liver disease

changes in appetite
dry mouth
weight loss
nausea
vomiting
abdominal swelling
pain in the abdomen
jaundice
confusion
fever
fatigue
etc

Renal cell carcinoma
Renal cell carcinoma (RCC) is the most common cancer of kidney found in adults all over the world. RCC is a very fast growing cancer. It can spread to the lungs and other surrounding organs.

Common causes & risk factors for RCC

family history of RCC
hypertension
obesity
dialysis
smoking
PKD (polycystic kidney disease)
Von Hippel-Lindau disease
chronic drug abuse
etc

Symptoms of RCC

Hematuria
a lump in the abdomen
loss of appetite
unexplained weight loss
fatigue
visual disturbance
pain in the renal angle
excessive hair growth in females
etc

G6PD Deficiency
G6PD is a genetic abnormality that is characterized by inadequate amount of G6PD ( glucose-6-phosphate dehydrogenase) enzyme in circulating blood. Without this enzyme the RBCs break down prematurely leading to hemolytic anemia.

Causes of G6PD Deficiency

It is mainly a genetic disease. This disease is inherited from one or both parents.

Symptoms

tachycardia
shortness of breath
dark urine
fever
fatigue
paleness
dizziness
jaundice
etc

Malaria
Malaria is a serious and life-threatening disease that is caused by bite of an infected female Anopheles mosquito.
Causes of malaria

bite of a female Anopheles mosquito which is infected by Plasmodium group of parasites
transmission from mother to baby during birth
transmission by blood transfusion. Etc

Symptoms of malaria

moderate to severe shaking chills
high fever followed by profuse sweating
headache
nausea
vomiting
diarrhea
anemia
muscle pain
convulsion
coma
dark urine
etc.

Hepatitis A
Hepatitis A is mild type of hepatitis. It is commonly transmitted by hepatitis A virus contaminated food or drink
Symptoms of Hepatitis A-
Flu like symptoms (such as fever, fatigue, body ache), abdominal pain , dark urine, jaundice, loss of appetite, unexplained weight loss.
Bladder stones
If concentrated urine, less water, more waste product etc are left in the bladder after micturition, some crystallized minerals are formed in the bladder which are known as bladder stones.
Causes of bladder stones-

Urinary tract infections

damaged urethra
enlarged prostate
neurogenic bladder
weak bladder
kidney stones
Etc

Symptoms of bladder stones

Nocturia
lower abdominal pain
burning sensation during micturition
dark urine
etc.

Hepatitis C
Hepatitis C is a severe form of hepatitis. It is transmitted by using contaminated syringe or having unprotected sex.
Hepatitis B
Hepatitis B is transmitted through infectious body fluids such blood , semen , saliva etc. wound caused by injection syringe, razor etc which is contaminated with hepatitis B virus can also transmit this disese. Currently 350 million people all over the world is suffering from this chronic disese.
Hepatitis E
Hepatitis E is transmitted through contaminated water. It is found in those areas which have poor sanitation. Hepatitis E is a common disease all over the world.
Hepatitis D
Hepatitis D is also a severe viral infection. It is a rare disease and it can't occur without the help of hepatitis B virus.
Acute Pancreatitis
Acute pancreatitis is a sudden inflammation of the pancreas. It causes pain in upper quadrant of the abdomen and may radiate to the back.

Causes of acute pancreatitis

immunological attack on the pancreas
pancreatic injury
gallbladder injury
cystic fibrosis
alcohol abuse
Kawasaki disease
mumps
Reye's syndrome
etc

Symptoms of acute pancreatitis

pain immediately after taking food or drinking
pain radiating from abdomen to back
persistant pain for several days etc
pai when lying on your back and the pain increases when sitting up etc.

Sickle cell Anemia
Sickle cell anemia is genetic disease which affects the red blood cells. It is also known as sickle cell disease. Normally the red blood cells are disk shaped, which makes it easy for them to travel through blood vessels.

But in sickle cell disease the RBCs are abnormal crescent shaped which makes them sticky and rigid. As a result the RBCs get trapped in small vessels and can't reach to different parts of the body. this causes severe pain and damage of tissues.

Transitional Cell Carcinoma
It is the most common type of cancer of the renal pelvis and ureter.

Symptoms of Transitional Cell Carcinoma

Hematuria
persistent back pain
fatigue
unexplained weight loss
painful micturition
frequent micturition
etc.

Liver Cancer
Cancer occurring in the liver is called liver cancer. Liver cancers may classified into two types. They are primary liver cancers and secondary liver cancers.
Primary liver cancera occur in liver cells, on the other hand secondary liver cancers occur due cancer cells which come to liver from another cancer site (metastasis).

Different types of primary liver cancers

Hepatocellular carcinoma
Cholangio carcinoma
liver angiosarcoma
hepatoblastoma

Symptoms of liver cancers

Abdominal pain and tenderness
jaundice
chalky white stools
nausea
vomiting
weakness
fatigue
etc

Infectious Mononeucleosis
A group of disorders caused by Epstein-Barr virus (EBV) , is known as infectious mononeucleosis. The virus is commonly spread through saliva.
Symptoms of infectious mononeucleosis

fever
sore throat
swollen lymph nodes
headache
fatigue
muscle weakness
night sweat
etc

Breast Milk Jaundice
It is a very common condition in new born babies. The main cause is the high level of bilirubin in the circulating blood. Normally it occurs one week after birth which may persist up to 12 weeks. Normally it does not cause any problem and resolves on its own after a few days.
Pancreatic cancer
Cancer occurring within the pancreatic tissues is known as pancreatic cancer.

Risk factors

Being obese
smoking
chronic alcoholism
high fat diet
less fruit and vegetables in diet
less exercise
diabetes
liver damage
family history of pancreatic cancer

Symptoms

Loss of appetite
unexplained weight loss
abdominal pain
low back pain
depression
jaundice etc

Goodpasture Syndrome
It is an auto-immune disease. In this condition your immune system mistakenly attack your lung walls and the filtering units of your kidneys.

General symptoms

weakness
lethargy
fatigue
loss of appetite
nausea
vomiting
pale appearance

When attacks the lungs

dry cough
hemoptysis
shortness of breath

When attacks the kidneys

burning sensation during micturition
hematuria
swelling of hand and feet
hypertension
etc.

Idiopathic Autoimmune Hemolytic Anemia (IAHA)
IAHA is an autoimmune disorder in which immune system produces antibody and destroy the RBCs rapidly.
Symptoms

Tachycardia
weakness
shortness of breath
nausea
vomiting
muscle pain
dark urine
headache
abdominal discomfort
diarrhea
etc

Drug induced Immune Hemolytic Anemia
It is a condition characterized by a medication which you are taking stimulates your immune system to mistakenly attack your RBCs and destroy them.

Some medications which may cause this are

Cephalosporin
dapsone
levodopa
methyldopa
levofloxacin
NSAID
penicillin
quinidine
etc

Paroxysmal Nocturnal Hemoglobinuria (PNH)
PNH is a disorder which break down your RBCs sooner than their normal life span. There is no known risk factor for this disease. It is not an inherited disease. This disease is caused by losing of a gene called PIGA.
Thalassemia
It is an inherited disorder of blood which is characterized by formation of an abnormal form of hemoglobin. Thalassemia has two main forms- Alpha thalassemia and Beta thalassemia.

Symptoms

Paleness
fussiness
poor appetite
frequent infections
jaundice
enlarged glands
etc

Yellow fever
It is a flu-like disease which is spread by mosquitoes. It is a very serious and potentially fatal disease. It is characterized by high fever and jaundice. The disease is not curable but you can prevent this disease by taking yellow fever vaccine
Hepatorenal Syndrome(HRS)
It is a progressive kidney failure in people having severe liver damage commonly cirrhosis. There are two types- type 1 HRS and type 2 HRS. this an extremely serious condition of the body and should be treated immediately as an emergency condition.

Symptoms of HRS

Confusion
delirium
nausea
vomiting
dementia
weight gain
jaundice
decreased urine output
dark urine
etc

Autoimmune Hepatitis (AIH)
Normally viruses attack liver cells. But, sometimes immune system attack the liver cells and causes chronic damage to the liver resulting in cirrhosis and ultimately liver failure.
They are of two types- type I and type II
Symptoms of AIH

hepatomegaly
spider angioma
abdominal swelling
dark urine
pale stools
jaundice
itching
fatigue
joint pain
loss of appetite
nausea
vomiting
abdominal discomfort
etc