Why is gonorrhea called the clap?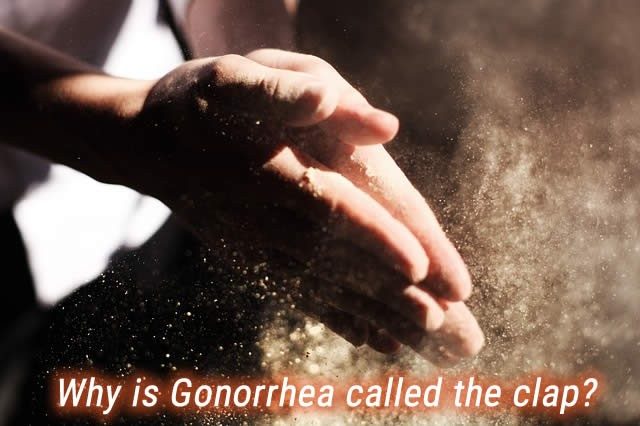 Gonorrhea is one of the oldest sexually transmitted disease caused by a bacterium of the similar name. It can happen to both men and women. In men, the symptoms involve discharge of yellowish liquid substance from penis causing itching and burning.
In women, it leads to burning or itching sensation and frequent urination, yellowish vaginal discharge along with redness and swelling of genitals. It gives a sensation and urge to pee but nothing comes out in real causing swelling and redness. However, more than half of women suffering with Gonorrhea may not see any symptoms and discover it at later stage when it spreads to other body parts and increases complications.
Gonorrhea is also known as 'The clap' or in other words, clap is actually euphemism for Gonorrhea. There are several theories surrounding as to why it is called a clap. This post will cover those theories which somewhere relates as to why Gonorrhea is called as clap!
Ignorance is not bliss for Gonorrhea
Gonorrhea's initial stage is discharge from penis but as it spreads it can cause inflammation in pelvis, joints, eyes and heart valves too! Also, it was believed that the antibiotics can treat it completely but in 2010, a resistant form of Gonorrhea was reported and the research is still going on to come up with strong antibiotic to treat it.
So the perception that it can be treated completely with antibiotics can prove to be wrong if the cause is this latest resistant form. In either of the case, it is always advisable and recommended with emphasize to visit a specialist and get done with complete examination. The clap is back is what is believed! Any ignorance can prove to be harsh for the health of you and your partner!

If you don't get it examined then it will spread to your partner as it is highly contagious and is sexually transmitted which can also infect the baby through the birth canal. So it is significant to get it examined and take necessary precautions. We have discussed the theories as to why it is called as the clap but there is no need for you to try the clap treatment in this era. This is because we have more advanced and researched means to initiate the treatment.
These theories relate to the times when medical advancements were still in development and testing phase but now the times have changed and thus it is wise to get it examined by an expert doctor so as to avoid the spread of this dreadful disease.
On a concluding note…
As a humble opinion, none of the theories are as shocking and entertaining as the actual clapping theory. But on a serious note and no laughing matter, gonorrhoea is a bacterial infection so you can't build any sort of immunity to it. You have to take the prescribed drugs over and over and gradually bacteria outlive the medication and become resistant to the treatment. There are not much antibiotics in pipeline and thus it is important to:
Make smart choices
Take precautions
Protect yourself
Talk to your partner
Talk to your doctor about getting tested
There is nothing to shy in figuring out as to how to deal with the clap STD!